We are forming a coalition of organizations in Switzerland working on important Values of Internet Technologies to establish a public platform where citizens can get access to important information, and create opportunities for collective learning and action.
We start by setting a regular monthly appointment, every 7th of the month at 7pm.
The events (courses, workshops, panels) will take place at L200 collective space, a very central and accessible location in Zurich, at Langstrasse 200.
Online participation will be possible through the 7at7 online room, hosted by Digitale Gesellschaft with the open source software BigBlueButton.
This is the current programme:
May 2020: Basic computer protection & security of messengers and video conferences
June 2020: Surfing anonymously and with little trace
July 2020: Meeting Online: the tools, the processes, and the art
August 2020: Showcasing Mechtronische Kunst: DIY, Making & Empowerment
September 2020: Digitalization and Sustainability
October 2020: Freedom of Information
November 2020: Campaigning about digital rights
December 2020: What about hackathons? The case of MakeZurich
January 2021: 7at7 Calendar 2021 (topics on digital empowerment)
February 2021: E-ID: What is at stake? [replay]
March 2021: Meet CIRCE #storytelling #hacking #pedagogy #conviviality
April 2021: Meet FairSocialNet: #diaspora #peertube #mastodon #BBB
May 2021: Meet pEp foundation: #privacy #encryption
June 2021: Self-hosting (Interview with a server)
July 2021: Meeting online (one year after)
* Since June 2021, the main entry page for the 7at7 series is
7at7.digital
Confirmed hosts of events (in alphabetical order): CCC-CH, Digitale Gesellschaft, ISOC-CH, NetHood, pEp Foundation, Open Network Infrastructure, SGMK.
Contact us to stay informed and/or organize one of the events.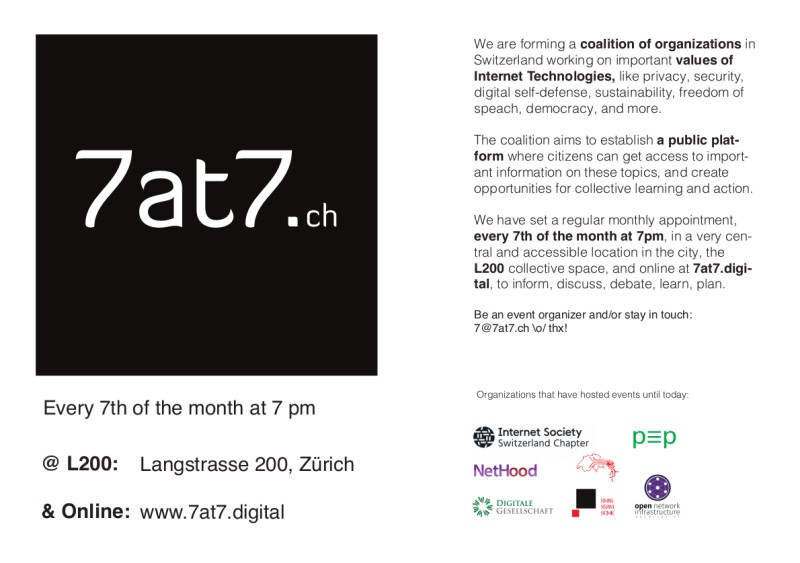 See more posters