July 7th, 2020 at 7pm
Meeting online: The tools, the processes, and the art of hosting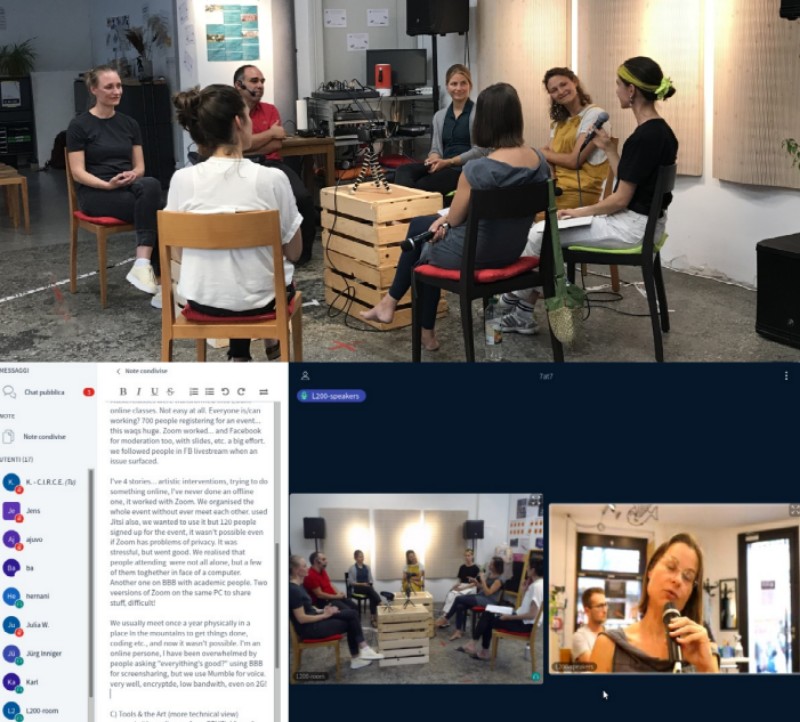 [
event announcement
]
The July 7at7 was the first hybrid event in the series, exploring the borders between physical and digital meetings.
The main (physical) stage was the L200 space, hosting a roundtable between experts having to host meetings and events online during the Corona crisis, who shared their experiences and lessons learned.
In our online BBB room, a small number of participants were invited to watch the roundtable with a supporting attitude, helping us to make sure the sound quality is good, and experiment with a format giving priority to the physical interactions at L200.
We learned a lot both from the past experiences of the roundtable participants but also from our common experience during the event.
A summary of important take-aways of this event will be soon published in this page.
Participants
sva (
GNUnet
,
CCC-CH
,
pEp.foundation
)
Katja Dörlemann (
SWITCH
)
Charlotte Schaeben (
ETH Zurich
,
Design in dialogue lab
)
Laurenne Descamps (
ImpactHub,
Circular Economy Transition
)
Ramona Sprenger (
Dezentrum
)
Manon Fantini (
Participation and inclusive processes
)
Moderator
Panayotis Antoniadis (
ISOC-CH
,
NetHood
,
L200
,
Openki
)
Online moderation
karlessi (
C.I.R.C.E
,
alekos.net
)
Jens Martignoni (
ZHAW
,
Flexibles
,
NetHood
)
Hernâni Marques (
p≡p foundation
)