7at7 online w/ BigBlueButton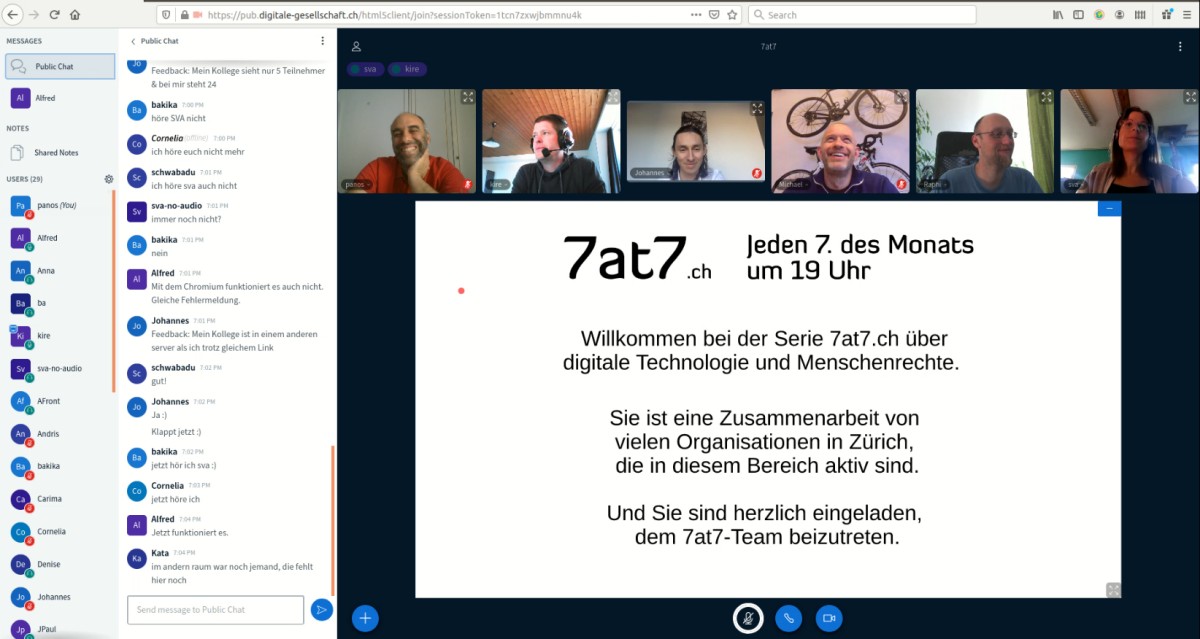 Due to the corona measures, the 7at7 series had to move online, at least for a few months.
The 7at7-online is taking place on a BigBlueButton web conferencing and e-learning server hosted by the Digitale Gesellschaft.
BigBlueButton is an open source alternative to corporate platforms like zoom and skype. So, the 7at7-online series contributes also to the introduction of BBB to a wider audience and to experimentation with different methodologies for event formats, facilitation, and more.
In this page we will be documenting special features of BigBlueButton, methodological best practices, and guidelines for installation of your own BigBlueButton server. Feel free to try it out yourself at the public online space at Digitale Gesellschaft's server
Special characteristics of BBB, and they can help you to organize better your online events:
No video participation more attractive
BBB does not "impose" the video frame (as zoom does for example), and so it feels more comfortable to participate without the camera on. And with appropriate facilitation the camera can be used only when needed.
We did try a stress test at the end of the course, and we had around 12 participants with their cameras on without any problem. Well, except that one participant with a weak device was kicked out (something to keep in mind).
Collaborative tools (slides as whiteboard)
In addition to the standard chatroom and screensharing, BBB offers "in house", three very useful functionalities for collaborative work. First a default set of slides can be always visible in the middle of the room (see photo above), which optionally can be "editable" by all participants who can draw lines, write comments, etc. An empty slide then can be used as a whiteboard.
Quick feedback (polls)
The so-called "presenter" in a BBB room, can launch very easily a poll that generate a pop-up window in all participants' screens and the results are visible for anyone at the end of the process. A single click for a "yes-no" poll is enough since the speaker can say the question out loud!
More resources
-
Virtual net suggestions for Open Source Communities
-
Virtual Conferences: A Guide to Best Practices